In the realm of Bollywood Industry there is no one there who hasn't heard the name, Shah Rukh Khan. The actor from Om Shanti Om, who last appeared on screen in the 2018 movie Zero alongside Anushka Sharma and Katrina Kaif. Katrina, who is getting ready to return in Rajkumar Hirani's Dunki. The movie, which also stars Taapsee Pannu, was announced in April of this year and is scheduled to launch in cinemas on December 22, 2023. Gauri Khan is a co-producer, while Rajkumar Hirani is the director and also a producer.
After a four-year hiatus, Shah Rukh Khan is prepared to make 2023 his year with three significant films, beginning with Pathaan. In January of the following year, it will be shown in cinemas. In addition, he will appear in Rajkumar Hirani's Dunki in December 2023 and Atlee's Jawan in June 2023. In actuality, the actor left for London last week to begin the foreign shoot schedule for Dunki after wrapping off the Mumbai part of the programme.
A picture of Shah Rukh Khan from a London shoot has surfaced, showing him with untidy hair, a chequered shirt, and black track pants. While filming at London's Waterloo bridge, the entertainer is beaming.
The cast is anticipated to film in London and Budapest, after which the entertainer will travel back to India to continue the filming of Atlee Kumar's Jawan.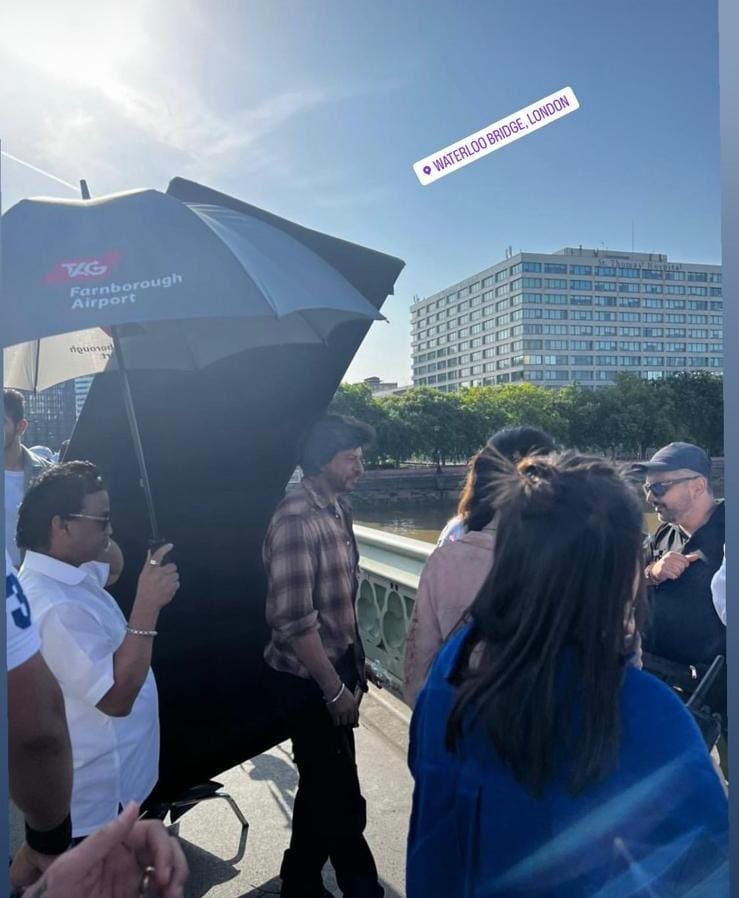 Taapsee Pannu was not even in the photo, but recently, she was all SRK and Rajkumar Hirani compliments. The actress recently expressed her gratitude for the opportunity to be cast in the movie Dunki and stated that,  I'm ecstatic and grateful to be working on this movie alongside Shah Rukh Khan and Rajkumar Hirani. When the movie is out, I won't be put off by the question of whether Raju Sir is the hero or not. Who wouldn't like to star in a movie with SRK? I was fortunate to obtain this one because it plays such an important role. It goes above and beyond anything a female performer has ever performed in a Raju Sir film.