The highly anticipated "Saas Bahu Aachar Pvt. Ltd." trailer has just been released by ZEE5. The 6-episode online series will debut on ZEE5 on July 8th. It was produced by Arunabh Kumar and Apoorv Singh Karki, helmed by Apoorv Singh Karki, and penned by Abhishek Srivastava and Swarnadeep Biswas. The Hindi-language online series would likely include Amruta Subhash, a national award-winning actor, as well as Yamini Das, Anup Soni, Anjana Sukhani, and Anandeshwar Dwivedi.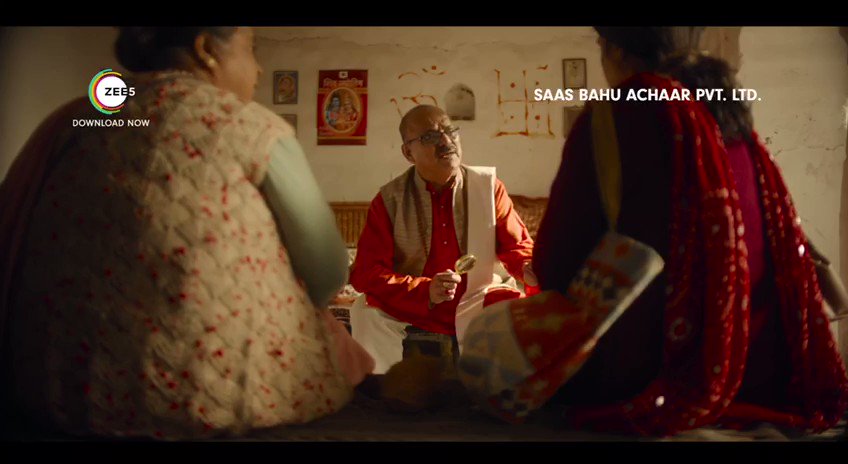 The tale is set among the renowned back streets of Chandni Chowk in Delhi. It is the tale of a woman, a mother who will do everything for her children. Suman, a homemaker from a small city, is the centre of the story. She sets out on a daring adventure to become an entrepreneur and attain financial independence. She attempts to launch her business career by advertising aachar but encounters several challenges and quickly learns that this won't be an easy trip. She encounters several obstacles, challenges, and setbacks but never gives up.
The show's creators, Arunabh Kumar and Apoorv Singh Karki, stated that it is a homage to all women who found their professional vocation against all difficulties. A girl is a true warrior who overcomes all of the challenges that allow her to reach her maximum capabilities and get a new dynamic.
Amruta Subhash, the show's principal actress and a national award winner, said, Saas Bahu Achaar is a special assignment since Suman's role is unlike anything I have portrayed before. Even in the face of difficulty, she is a force to be respected. Her struggle isn't unpleasant, but it is interesting, and her story will inspire others to keep going and never give up on their ambitions. Her family has been her inspiration throughout the whole process. Therefore, it's a show with the best heart, and I'm thrilled that I got to be a part of such a strong female-led show.